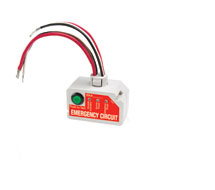 ELCU-200 | Watt Stopper, Legrand | Lighting Controls
EMERGENCY UL924 BYPASS SHUNT RELAY
Manufacturer:
Watt Stopper, Legrand
MPN:
ELCU-200
SKU:
ELCU-200
availability:Usually Ships in Less Than 6 Business Days
add to cart

product family specifications
120/277 VAC, 60 Hz, xx VA
24 VDC for Emergency contact DI
SPST-N.C., Zero crossover switching
Ballast 20A @ 120 VAC; 20A @ 277 VAC
Tungsten 10A @ 120 VAC maximum load
Fan HP 1HP @ 120 VAC maximum load
Push-to-test button on unit
DI" for Emergency activation (Test, Fire Alm, Sec Alm)
DI" for Norm/Emrgcy activation (Wall swch, Motion, Central light CTRL)
Electrically held emergency contactor coil
Energize Greater than 80% of supply voltage (per order)
Drop-out Less than 80% of supply voltage (per order)
3-LEDs (Remote activation, Norm PWR, Emgcy PWR)
Short Circuit Current (SCCR)
5% to 95% RH noncondensing
6 pigtails 18 AWG and 2 pigtails 12 AWG
Threaded Hub mount for 1/2″ knockout
NEMA 1, Fire rated V-0, 80℃
1.7″H x 2.97″W x 1.64″D, (4.3 x 7.5 x 4.1 cm)
cUL, UL 924 listed, file #E302768, UL 2043 plenum rated
Meets NFPA, OSHA, and NEC safety codes
product family features
Eliminates energy waste caused by emergency lighting that is always on
Integral push-to-test button activates emergency mode for a true test condition
Connects to EMTS-100 Remote Test Switch or other input to activate emergency on from a remote location
Operates as a control device or as a shunt
Senses local single circuit power failure
Zero cross switching technology for reliability and increased product life
Compatible with WattStopper occupancy sensors, daylighting controls, lighting control panels, and dimmers
LED indication for emergency and normal power
Half-second delayed on positively identifies emergency fixtures for required maintenance
Provides absolute fail-to-on emergency lighting
Qualifies for use on ARRA-funded projects
more information & related documents
The Wattstopper ELCU-200 emergency lighting control unit is a self-contained device that allows any standard lighting control device to control emergency lighting in conjunction with normal lighting in any area within a building. If power is lost for any reason, including the tripping of a single branch circuit breaker, the ELCU-200 will force on the emergency fixtures for that area. The ELCU-200 can be wired either as a control device, so that emergency lighting follows the control of normal lighting, or as a bypass device to shunt emergency power around a control device (e.g., a dimmer) when normal power fails.
EMERGENCY UL924 BYPASS SHUNT RELAY
ELCU-200 Instructions