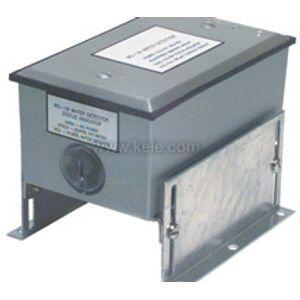 WD-1B-C | Kele | Level
Water Detector SPDT W/Deenergized Relay
Manufacturer:
Kele
MPN:
WD-1B-C
SKU:
WD-1B-C
Availability:
83 In Stock
add to cart

product specifications
Water Detector SPDT W/Deenergized Relay
WATER DETECTOR SPDT W/DEENERGIZED RELAY
product family features
Weather resistant enclosure
LEDs for power and alarm indication (green, red)
Adjustable detection level
more information & related documents
The WD-1B water detector features gold-plated probes and microchip technology for dependable water detection of conductive liquids. The Model WD-1B can be operated from 11-27 Volt AC or 11-27 Volt DC in HVAC and Building Automation System, BAS, applications. For application flexibility, SPDT contacts connect to a monitoring system. A height-adjustable, cast-aluminum, weatherproof enclosure comes standard. A green LED visible outside the box indicates power. A red LED indicates water detected. The Model WD-1B is also available with an external tape style sensor, the Model WD-2-T.
WATER DETECTOR SPDT W/DEENERGIZED RELAY