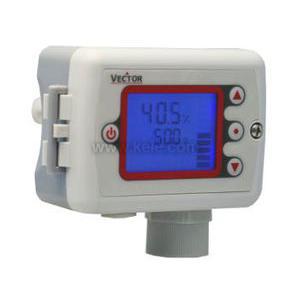 TDC-BH-U-W25 | Vector Controls Ltd | Humidity
Standard Duct Humidistat Sensor, 5%, LCD Display, 1 Humidity Internal Input, 1 External Temperature Input, 1 DO Relay for Humidifier or Dehumidifier, 1 DO Relay for Fan
Manufacturer:
Vector Controls Ltd
MPN:
TDC-BH-U-W25
SKU:
TDC-BH-U-W25
Availability:
Usually Ships in Less Than 3 Business Days
product specifications
AES-HT-A5||DCPA-1.2||DCP-1.5-W||UR
Humidification||Dehumidification||Supply||Discharge||Return Air||Economizers||Clean Rooms||Data Centers||Process Control||Schools||Hospitals||Office Buildings
Standard Duct Humidistat Sensor, 5%, LCD Display, 1 Humidity Internal Input, 1 External Temperature Input, 1 DO Relay for Humidifier or Dehumidifier, 1 DO Relay for Fan
RH XMTR, DUCT, ±5.00%, NO TEMP
product family features
Humidification and Dehumidification control
External temperature input for set point setback
Programmable user interface
Optional time clock, 24 hour, 7 day
more information & related documents
The Vector TDC-BH-U Series duct mount humidistat is a stand-alone programmable electronic humidistat designed for controlling humidification and dehumidification equipment in HVAC and energy management systems. The TDC-BH-U Series features one internal humidity sensor, one external temperature sensor input and two relay outputs. Humidity reset is possible using the ST-O24 outdoor air temperature sensor for cold weather applications to prevent condensation. The TDC-BH-U-D Series comes with all of the features of the base model plus a time clock feature for advanced programming with 48 hour backup.
5% DUCT MOUNT HUMIDISTAT W/DISPLAY AND FAN CONTROL

TDC Series Installation and Operation Manual