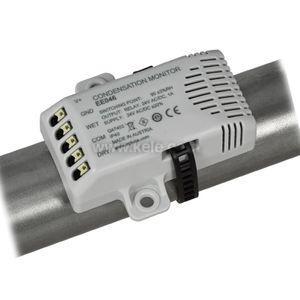 EE46 | E+E ELEKTRONIK CORPORATION | Humidity
Condensation Monitor
Manufacturer:
E+E ELEKTRONIK CORPORATION
MPN:
EE46
SKU:
EE46
add to cart

more information & related documents
The E+E EE46 Series condensation monitors are used to monitor the formation of condensation on chilled ceilings or to prevent condensation at critical spots of heating, ventilation and air conditioning systems. It is also used as a dew point monitor for systems operating near the dew point. The condensation monitor measures the relative humidity near the dew point using its high-quality capacitive sensor. Once a 90% RH condition is reached, a contact will energize signaling an approaching condensation condition and that an appropriate action is required to avoid condensation forming. An additional status light indicates and visually confirms the condensation danger. The EE46 Series is highly insensitive to dust and dirt and is ideal for mounting on walls, ducts and pipes up to 2″. Each EE46 comes with an adjustable and removable cable tie for mounting but also has an adhesive back for added security.
CONDENSATION MONITOR, WALL/PIPE MOUNT
E+E ELEKTRONIK CORPORATION
EE46 Series Datasheet