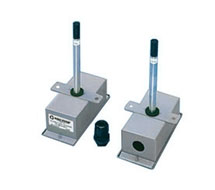 * product family image displayed
HU-226-3-VDC-12 | MAMAC Systems | Humidity
3% HUM/TEMP 10 K TYPE II DUCT
Manufacturer:
MAMAC Systems
MPN:
HU-226-3-VDC-12
SKU:
HU-226-3-VDC-12
Availability:
Usually Ships in Less Than 6 Business Days
add to cart

product family specifications
more information & related documents
The MAMAC Systems HU-226 Series Duct Humidity and Temperature transmitters are specifically designed for use in HVAC/BAS applications. These instruments measure relative humidity from 0% to 100%. The MAMAC HU-226 Series transmitters has an analog output for humidity and resistance output for temperature.
3% HUM/TEMP 10 K TYPE II DUCT