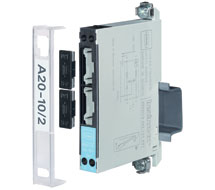 * product family image displayed
S-SSO-002 | R. Stahl | Hazardous Locations
INSULATING DIN RAIL SPACER
Manufacturer:
R. Stahl
MPN:
S-SSO-002
SKU:
S-SSO-002
Availability:
Usually Ships in Less Than 5 Business Days
product family specifications
product family features
DIN rail mounting with integral intrinsic safety ground
Class I, II, III, Division 1, Groups A, B, C, D, E, F, G
more information & related documents
The R Stahl 9001 Series Intrinsic Safety barriers are for protection and accuracy for intrinsically safe sensing and controlling devices in hazardous locations. The electronic design limits the amount of electrical energy that can be transmitted into the hazardous area to a level below the ignition energy of even the worst-case explosive mixture of fuel and air. This level of protection remains intact even in the event of simultaneous faults, thus providing the highest possible safety rating for this type of system.
INSULATING DIN RAIL SPACER

9001 Series installation manual