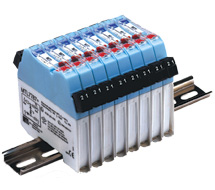 MTL7728+ | Cooper Crouse-Hinds MTL | Hazardous Locations
IS BARRIER DIGITAL OUTPUT/4-20 MA INPUT
Manufacturer:
Cooper Crouse-Hinds MTL
MPN:
MTL7728+
SKU:
MTL7728+
availability:Usually Ships in Less Than 5 Business Days
add to cart

product family specifications
45 mA typical @ 20 mAl with 24 VDC supply; 60 mA maximum @ 20 mA with a 20 VCD supply
Maximum Safe Area Voltage
16 VDC minimum @ 20 mA with 250Ω load; 11 VDC @ 20 mA with 500Ω load
product family features
FM entity approval Class I, II, and III, Division 1, Groups A, B, C, D, E, F, G
BASEEFA approval EEx [ia], IIC
DIN rail mounting with integral intrinsic safety ground
more information & related documents
The MTL7000, MTL7700 and MTL5000 Series of ultra-slim intrinsic safety barriers is the worldwide standard in protection and accuracy for intrinsically safe sensing and controlling devices in hazardous locations. Each intrinsically safe barrier limits the amount of electrical energy that can be transmitted into the hazardous area to a level below the ignition energy of even the worst-case explosive mixture of fuel and air. The safety barrier protection remains intact even in the event of two simultaneous faults, thus providing the highest possible safety rating for this type of system. All MTL7000, MTL7700 and MTL5000 Series barriers are FM approved for use in intrinsically safe systems under the entity concept and can thus be applied with the widest possible array of intrinsically safe devices. Designed for ease of installation, these barriers provide a positive intrinsic safety ground through the DIN rail. These safety barriers are proven performers in building automation systems, BAS, and HVAC applications. Isolating spacers are available for applications in which the intrinsic safety ground must be separate from the mounting panel's earth ground (ANSI / ISA RP-12.6 specifies grounding requirements).
IS BARRIER DIGITAL OUTPUT/4-20 MA INPUT