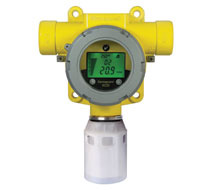 * product family image displayed
SVIP3730 | Honeywell Analytics | Hazardous Locations
COMBUSTIBLE (H2) XMTR 4-20MA 3 RLY MODBUS
Manufacturer:
Honeywell Analytics
MPN:
SVIP3730
SKU:
SVIP3730
product family specifications
-40° to 149℉ (-40° to 65℃)
NEMA 4, IP66; Housing: Epoxy painted aluminum alloy LM25; Sensor: stainless steel
Integral mounting plate with 4 x mounting holes suitable for M8 bolts
3 x 5A@250VAC. Selectable normally open or normally closed (switch) and energized/de-energized (programmable). Alarm relays default normally open/de-energized. Fault relay default normally open/energized
8.9″H x 6.5″W x 3.9″D (2.25 x 16.4 x 9.9 cm)
Approvals UL File #E186567, CE
product family features
User friendly and intuitive tri-colored backlit display with digits, bar graph, and icons
Fully configurable via magnetic switches
Selectable sink or source 4-20 mA output
Built in Alarm and Fault relays
MODBUS communications for remote diagnostics/configuration
Removable plug in display module provides easy access to terminal area
Integral mounting bracket
2 x M20 or 3/4" NPT cable/conduit entries
Epoxy painted aluminum alloy housing
Class I, Division 1 Groups B, C, and D; Class I, Division 2, Groups B, C, and D; Class II, Division 1 Groups E, F, and G; Class II, Division 2, Groups F and G
more information & related documents
The Honeywell Analytics XCD Series explosion proof gas monitor/transmitter provides comprehensive monitoring of flammmable, toxic, and oxygen gas hazards in potentially explosive atmospheres. Users can modify detector operation using the LCD and magnet switches without ever needing to open the unit. This enables one-man, non-intrusive operation and reduces routine maintenance time and costs. The XCD series is suitable for both indoor and outdoor use.
COMBUSTIBLE (H2) XMTR 4-20MA 3 RLY MODBUS

SPXCD Manual