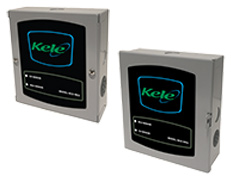 * product family image displayed
KCO-NO2-S | Kele | Gas & Specialty Sensors
CO-NO2 SENSOR, STEEL SCREW COVER, 4-20 MA
Manufacturer:
Kele
MPN:
KCO-NO2-S
SKU:
KCO-NO2-S
add to cart

product family specifications
4mA to 20mA (corresponds to 0 to 100 ppm)
±5% of full scale (typical)
6 months; factory calibrated when new
Calibrate Field-Replaceable Sensor
4mA to 20mA (corresponds to 0 to 10 ppm)
±5% of full scale (typical)
6 months; factory calibrated when new
Calibrate Field-Replaceable Sensor
Robust 18 Ga. Grey powder-coated steel. Hinged & Pad-lockable, or screw-on cover style available
-20 to 50°C (-4 to 122°F)
0 to 20°C (32 to 68°F) to minimize sensor degradation
Case Dimensions (H x W x D)
6.4" x 5.9" x 2.5" (163,5 x 150.8 x 60.7 mm)
Natural ventilation through 18 0.1" diameter (2.54 mm) vents
Recommended Calibration Cap Diameter
Separate tri-color LEDs indicate operational status of each sensor
4 trade 1/2" knockouts (1 per side)
13 to 30 VAC (RMS) or 15 to 45 VDC polarity independent, isolated power supply
Two separate SPDT relays for warning and alarm outputs; 10 Amps max at 120 VAC (RMS) or 30 VDC
Concentration Reporting Outputs
Two powered 4–20 mA current loop outputs (one for each sensor). 4 mA output => 0 ppm, 20 mA => full scale output. Maximum loop resistance: 510Ω
Removable plugs for use with 12 gauge AWG or thinner
1 year sensor, 7 years electronics
product family features
Field-selectable 4-20mA or 0-5V/0-10V output
Steel enclosure (screw or lockable hinge cover)
0-200 ppm CO range
0-20 ppm NO2 range
Two 10-amp SPDT relays
Wide operating power range: 12 to 30 volts RMS or DC:
Suitable for wide variety of applications: HVAC, parking garage, mobile, industrial
Electronics of main circuit assembly guaranteed for 7 years
Individual setpoints for warning and hazard levels of each gas
Two tri-color LEDs indicate alarm levels and operational status.
Pluggable screw terminal connectors make landing wires a snap:
Three-year sensor life
End-of-life detection for both sensors
EOL indicated on front panel and analog output
Field-replaceable, calibrated sensors available
more information & related documents
The Kele KCO-NO2 sensor is designed to monitor carbon monoxide and nitrogen dioxide levels in ambient air. It is constructed with a rugged, powder-coated steel enclosure for protection against impact and chemicals. The hinge cover version can be locked. The Kele KCO-NO2 effectively measures and reduces toxic exposure in parking garages, loading docks, and other vulnerable environments. Its operation range is 0-200 ppm for carbon monoxide and 0-10 ppm for nitrogen dioxide. The CO and NO2 sensors are field replaceable with calibrated modules.
CO-NO2 SENSOR, STEEL SCREW COVER, 4-20 MA
KCO-NO2 Installation Manual