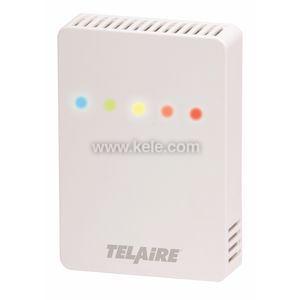 T5100-LED | Amphenol Advanced Sensors | Gas & Specialty Sensors
CO2 Wall Sensor,LED, 0-5 VDC, 0-10 VDC, 4-20 mA
Manufacturer:
Amphenol Advanced Sensors
MPN:
T5100-LED
SKU:
T5100-LED
Availability:
Usually Ships in Less Than 14 Business Days
product specifications
CO2 Wall Sensor,LED, 0-5 VDC, 0-10 VDC, 4-20 mA
CO2 SENSOR, WALL, ±30 PPM, 0-2000 PPM, FLD SEL, 0 RELAY, LED, PLASTIC ENCLOSURE, NO RATING
product family features
Patented, Absorption Infrared Gas sensing engine provides high accuracy in a compact low cost package,Patented ABC Logic™ self-calibration system eliminates the need for manual calibration in most applications,Lifetime CO2 calibration guarantee when using ABC Logicâ"¢,Mounting plate with two-piece terminal blocks provide quick, easy wiring,Gas permeable, water resistant CO2 diffusion filter prevents particulate and water contamination of the sensor,Locking screw secures cover and sensor to the mounting bracket for tamper resistance,Sensors are shipped factory calibrated,Modern enclosure,Low cost,Reliable (20 years of low-cost infrared sensor manufacturing),Available output options: Voltage 0-10V or 0-5V (jumper selectable) or current 4-20 mA,UIP software compatible for customizations,CE, RoHS, REACH and WEEE compliant,Lifetime calibration warranty,Two enclosure sizes for regional acceptance
more information & related documents
The Telaire/Amphenol Advanced Sensors 5100 Series wall-mount CO2 transmitter offers low-cost, high-performance CO2 transmitters for the building controls market. It works seamlessly with building automation systems and allows you to simply and effectively control fresh air. Demand-controlled ventilation using CO2 sensors prevents energy losses from over-ventilation while maintaining indoor quality.
Amphenol Advanced Sensors