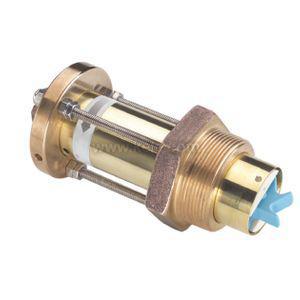 220BR0005-1211 | Badger Meter | Flow
220BR Insertion Style Brass Flow Sensor
Manufacturer:
Badger Meter
MPN:
220BR0005-1211
SKU:
220B
product specifications
220BR Insertion Style Brass Flow Sensor
220BR INSERTION STYLE BRASS FLOW SENSOR
more information & related documents
The 220B brass water flow sensor and 220SS stainless steel water flow sensor are used in general to measure water flow in metallic or PVC pipes from 2-1/2 in. to 40 in. (6.4 to 101 cm) size. Each sensor can mount in a 2 in. NPT pipe saddle or Thredolet®. Positioning nuts on the three threaded retaining rods allow the sensor to be accurately positioned to a standard insertion depth of 1-1/2 in. into the pipe. When this insertion depth is maintained, and there are at least 10 upstream and 5 downstream diameters of straight uninterrupted flow, an accuracy of ±1% of actual flow rate can be obtained between flow velocities of 0.5 to 30 ft/sec. Ideal for Building Automation Systems, BAS, and HVAC applications, the standard 200 Series flow sensors are rated for water temperatures to 221 "‰. For higher temperature requirements, see the SDI Series.

200 Series insert style flow sensors IOM