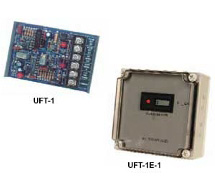 * product family image displayed
UFT-1E | Kele | Flow
PULSE OUT FLOW XMITT ENCLOSED
Manufacturer:
Kele
MPN:
UFT-1E
SKU:
UFT-1E
Availability:
196 In Stock
add to cart

product family specifications
15 to150 Hz FS, dry or electric contact
Factory configured only; provide pipe size/schedule and maximum flow rate at time of order
5 seconds from 10% to 90%
UFT-1E, -1AE Surface mount, enclosed
5% to 90% RH non-condensing
product family features
Optional watertight (NEMA 4X) enclosure
Optional displays for flow rate and totalization
Excitation voltage for flow sensors
LED indication of pulse activity
more information & related documents
The Model UFT-1 Universal Flow Transmitter is a solid-state, digital signal converter designed to operate with Data Industrial 200 Series flow sensors. Ideal for use in Building Automation Systems, BAS, and HVAC applications, the transmitter is available in both analog (4-20 mA) and pulse outputs. The transmitters may be mounted in an optional NEMA 4X enclosure or with digital display of gpm or totalized flow (in a non-watertight enclosure).
PULSE OUT FLOW XMITT ENCLOSED