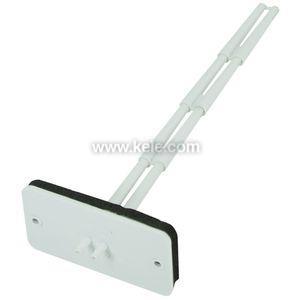 DPFS-2-10PAK | Kele | Flow
Air Flow Sensor, Probe, Plastic, 5.2" Length-10 Pack
Manufacturer:
Kele
MPN:
DPFS-2-10PAK
SKU:
DPFS-2-10PAK
Availability:
102 In Stock
product specifications
Air Flow Sensor, Probe, Plastic, 5.2" Length-10 Pack
DIFF PRESS FLOW SENSOR 5.2 INSERTION, 10 PAK
product family features
Connections sized for 1/4 in. OD poly tubing to eliminate the need for a 3/8 in. to 1/4 in. barb union adapter,Integral foam gasket for leak-proof duct seal,10-packs available for economy and minimal packaging waste
more information & related documents
The Kele DPFS Series differential pressure flow sensor is the most economical way to sense airflow velocity in VAV ducts, and other small size branch ducts in HVAC systems. The DPFS Series is available in 4 different lengths for flow sensing in duct sizes from 4 in. to 18 in. (10 to 46 cm) and can reliably sense velocities above 1000 FPM (feet/minute) or 305 MPM (meters/minute).
DIFF PRESS FLOW SENSOR 5.2 INSERTION 10 PAK

DPFS Data Sheet_BW