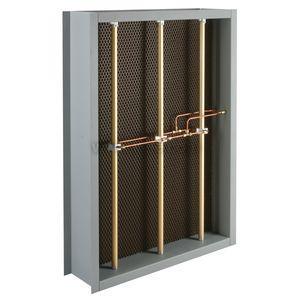 KMS2-R-66-95-B | Kele | Flow
Airflow Station Rectangular 66X95 With Straightner
Manufacturer:
Kele
MPN:
KMS2-R-66-95-B
SKU:
KMS2-R-66-95-B
product specifications
Airflow Station Rectangular 66X95 With Straightner
AIRFLOW STATION RECTANGULAR 66X95 W/ STRAIGHTNER
product family features
Multiple total and static pressure sensing ports along the length of the element
Factory mounted and pre-piped in a flanged duct section (casing)
Optional: Honeycomb airflow straightening section
±2% accuracy from 100 to 800 FPM
Construction includes a galvanized casing, aluminum flow sensors
Operation from 0 to 100% humidity
Standard airflow stations have good salt air resistance and are suitable for most HVAC applications
more information & related documents
The Kele KMS2 Series airflow measurement station consists of single or multiple airflow elements, factory mounted and pre-piped in a casing designed for flanged connection to the ductwork. The station can also incorporates an airflow straightening section constructed of aluminum honeycomb having a ½ inch opening and 3 inch depth. Standard materials consist of a G90 galvanized casing, 6063-T5 anodized aluminum flow sensors, and optional 3003 aluminum airflow straightener. The total pressures sensed by the upstream ports are continually averaged within an isolated chamber. The static sensing ports (located where the influence of the velocity head is zero) are averaged in a second isolation chamber. Multiple elements are manifolded together for connection to a differential measurement device for flow measurement and indications. Kele is the leading supplier of building automation products. When you need the right product, right now, count on Kele.
AIRFLOW STATION RECTANGULAR 66X95 W/ STRAIGHTNER