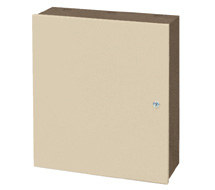 * product family image displayed
RET1-2620ULPB | SAGINAW CONTROL & ENGINEERING |
ENCLOSURE, NEMA 1, 26 X 20 X 7, POWDER BLUE
Manufacturer:
SAGINAW CONTROL & ENGINEERING
MPN:
RET1-2620ULPB
SKU:
RET1-2620ULPB
Availability:
68 In Stock
add to cart

product family specifications
product family features
Low-cost NEMA 1 enclosure
Mounted with door hinged on left or right side
Attractive powder-coated finish
Standard brown enclosure with brown door
Optional colors available
Key lock, two keys, and attractive gray powder-coated perf panel furnished
Mounting components simplified with perf panel
more information & related documents
The Kele RET Series includes attractive, economical NEMA 1 enclosures. The enclosures are designed for control housing and instrument housing in areas which do not require oil-tight and dust-tight ratings for Building Automation Systems,BAS, and HVAC applications. Each RET Series enclosure is furnished with a perforated metal subpanel for easy mounting of components. No drilling or layout is needed. Simply set the control components on the panel and attach with #7 or #8 self-tapping screws in the pre-punched holes. The RET Series is also available in a UL listed version.
ENCLOSURE, NEMA 1, 26 X 20 X 7, POWDER BLUE
SAGINAW CONTROL & ENGINEERING