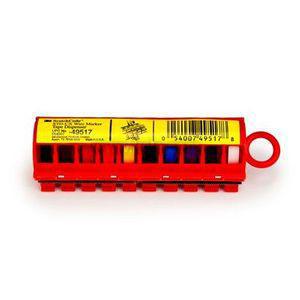 54007-12175 | Selecta | Electrical Wiring Materials
Wire Marker Tape Dispenser (Filled Colors) 25 Per Case
Manufacturer:
Selecta
MPN:
54007-12175
SKU:
STD-CX
Availability:
20 In Stock
product specifications
Wire Marker Tape Dispenser (Filled Colors) 25 Per Case
WIRE MARKER TAPE DISPENSER (FILLED COLORS) 25/CASE
more information & related documents
The ScotchCode Tape Dispenser STD is a compact, carry along dispenser with ten refillable compartments that hold eight-foot rolls of non-smear polyester tape. Used for marking binder groups, wire or cable, the tapes high tack, acrylic adhesive resists solvents, oil and water, and adheres firmly to insulation surfaces. An end-loop hooks the dispenser easily to a tool pouch or belt.
WIRE MARKER TAPE DISPENSER (FILLED COLORS)