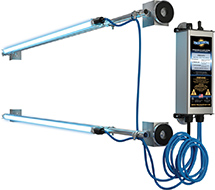 * product family image displayed

TUV-BTXL-218D | Fresh-Aire UV | Disinfection Solutions
BLUE-TUBE XL 120-277 VAC, 18" DUAL LAMP, HIGH OUTPUT
Manufacturer:
Fresh-Aire UV
MPN:
TUV-BTXL-218D
SKU:
TUV-BTXL-218D
Today's Price:
$856.00
(74% OFF LIST PRICE!)
product family specifications
254 nm germicidal UV-C, quartz hot filament
Lamp: 15"L x 0.74" Dia.; ER Power Supply: 4.1"W x 1.7" H x 1.8"D; ST Power Supply: 5.0"W x 1.1" H x 2.4"D
18-32 VAC, 60 Hz; 0.68 Amps, 16 VA
120-277 VAC, 50/60 Hz; 0.51 Amps/120V Thru 0.22 Amps/277V
•Power Supply, •6' Lamp Cable, •UV Lamp, •Magnetic 'Z' Bracket, •Mounting Hardware, •Panel Indicator, •Installation Sticker
Lifetime for all parts except lamp
product family features
Easy to install

Fits coils from 18" x 32" to 72" x "72

2 year guaranteed lamp life

Includes everything needed for most installations

Scalable design for multi-lamp configurations

Lifetime warranty on all parts except lamp(s)

Water-resistant heavy-duty power supply

Optional door interlock switch (TUVC-INTLCK)
more information & related documents
The Fresh-Aire UV BLUE-TUBE XLTM Series is designed for installation in commercial air handling units and rooftop package units for the purpose of surface or airborne disinfection using ultraviolet germicidal irradiation. For maximum installation flexibility and cost-effectiveness, the UV lamps are mounted onto a framework of standard 0.5" EMT tubing (included). The remotely mounted, weather-resistant power supply can withstand the wet environment found inside air handlers or the exposed conditions of outdoor packaged air-conditioning systems. The number and placement of lamps is determined by several factors, including coil dimensions and condition or if airborne disinfection is desired. BLUE-TUBE XLTM has everything needed for complete installation in most AHU and RTU equipment. Click here to learn more!
BLUE-TUBE XL 120-277 VAC, 18" DUAL LAMP, HIGH OUTPUT