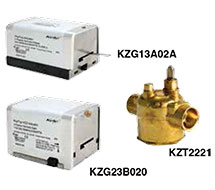 * product family image displayed
KZG13A020 | Kele | Control Valves
2POS/24V/GCO/NC/STD TEMP 18IN LEADS
Manufacturer:
Kele
MPN:
KZG13A020
SKU:
KZG13A020
add to cart

product family specifications
FNPT, Sweat, or inverted flare (3/4" only)
ANSI Class IV (0.01% of rated capacity)
Maximum Closeoff Pressure
Cv 1.0-1.5: 60 psid (414 kPa) KZG actuator, 75 psid (517 kPa) KZH actuator
Cv 2.5-3.0: 40 psid (276 kPa) KZG actuator, 50 psid (345 kPa) KZH actuator
Cv 3.5-4.0: 25 psid (172 kPa) KZG actuator, 30 psid (207 kPa) KZH actuator
Cv 5.0: 20 psid (137 kPa) KZG actuator, 25 psid (172 kPa) KZH actuator
Cv 7.5-8.0: 17 psid (117 kPa) KZG actuator, 20 psid (137 kPa) KZH actuator
Maximum Pressure Rating300 psig (2067 kPa)
Materials Of Construction
Brass valve body and seat, nickel-plated stem, BUNA N paddle; stainless steel base plate and aluminum cover on actuator
Hot or chilled water; 50% or less ethylene glycol; 15 psig steam
Media Temperature Range32° to 200℉ (0° to 93℃) with AG actuator; up to 250℉ (121℃) with AH actuator
24 VAC ±10% @ 7 VA; 120 VAC ±10%, 50/60 Hz; 208-277V models also available
Two-way valves: N.O./N.C. determined by choice of actuator; three-way valves: N.C. actuator only
KZG (general purpose) or KZH (high performance) type actuators only
N.O. contacts, 24-240 VAC, 101mA min to 5A max; 9-30 VDC @ 100 mA max
Models with auxiliary switch available
25 seconds maximum @ 60 Hz
KZG actuator: maximum ambient 104℉ (40℃);
KZH actuator: maximum ambient 169℉ (77℃)
Valve bodies: <1.4 lb (0.64 Kg)
Actuators: 1.0 lb (0.45 Kg)
product family features
Two- or three-way mixing/diverting body patterns
Removable and replaceable actuator
NPT, sweat, or inverted flare connections
2-position spring return control
more information & related documents
The KZ Series Two-Position PopTop™ zone valves offer a wide range of models to handle chilled water, hot water, and 15 psig (103 kPa) steam applications. Each PopTop zone valve features a removable actuator to aid in both installation and service. The 2-way zone valve and 3-way zone valve are available in many body patterns and with normally open or normally closed actuators. This wide range of zone valves meets a variety of needs for Building Automation Systems, BAS, and HVAC applications.
2POS/24V/GCO/NC/STD TEMP 18IN LEADS
KZ Series Installation Instructions