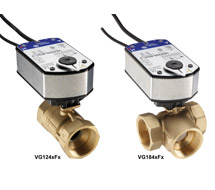 * product family image displayed
V-4332-1009 | Johnson Controls | Control Valves
3W/1/2IN/MIX/4-8LBS/PNEU/FLARE
Manufacturer:
Johnson Controls
MPN:
V-4332-1009
SKU:
V-4332-1009
Availability:
Usually Ships in Less Than 6 Business Days
add to cart

product family specifications
Two-way and three-way mixing or diverting
ANSI Class IV (0.01% of Cv)
Maximum Closeoff Pressure
50 psid (345 kPa) maximum; full port valves up to 150 psid (1034 kPa)
580 psig (3996 kPa), PN40
Materials Of Construction
Forged brass body, stainless steel (or chrome-plated brass) ball, stainless steel (or nickel-plated brass) stem, EPDM o-ring stem seals and graphite reinforced PTFE seats
Hot or chilled water, <50% glycol, <15 psi steam (stainless trim models only)
Stainless trim: 23° to 250℉ (-5° to 121℃);
Brass trim: 23° to 203℉ (-5° to 95℃)
Non-spring return: VA9104 (integral linkage) or M9109 w/M9000-520 linkage;
Spring return: VA9203, VA9208 (integral linkage)
See M9100 Series and M9200 Series in ACTUATORS & DAMPERS catalog section
product family features
Minimum 200,000 full cycle life expectancy
Compatible with water, glycol, and low-pressure steam
Equal percentage flow characteristics
Assembled or ordered separately
more information & related documents
The Johnson Controls VG1000 Series ball valves are available with two- and three-way body patterns with a characterized insert for equal percentage flow control and Cv ratings in the range of traditional globe valves. They are available in connection sizes from 1/2" to 2" (Cv's from 1.2 to 73.7). The VG1000 Series valves are used in combination with spring return and non-spring return direct-coupled actuators from Johnson Controls. The VG1000 Series are designed to control chilled water, hot water, 50% glycol, and 15 psig steam (stainless trim models only).
3W/1/2IN/MIX/4-8LBS/PNEU/FLARE