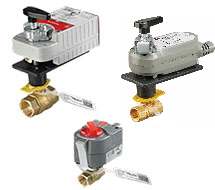 * product family image displayed
VBN2ABPXE101 | Honeywell | Control Valves
2-WAY, 1/2IN-NPT, 0.38 CV, BRASS TRIM, MODULATING (FAIL-SAFE OPEN) , 24VAC
Manufacturer:
Honeywell
MPN:
VBN2ABPXE101
SKU:
VBN2ABPXE101
Availability:
Usually Ships in Less Than 7 Business Days
product family specifications
1/2" to 3" FNPT (three-way to 2-1/2″)
Two-way and three-way (mixing or diverting)
Two-way Equal percentage for models with parabolic insert, linear for full port models
Three-way Equal percentage ports A-to-AB and linear ports B-to-AB
ANSI Class IV (0.01% of Cv)
Maximum Closeoff Pressure
Two-way 1/2" and 3/4": 130 psid (897 kPa);
Two-way 1" to 3": 100 psid (690 kPa);
Three-way 1/2" to 1": 50 psid (345 kPa);
Three-way 1-1/4" to 2-1/2": 40 psid (276 kPa)
Materials Of Construction
Forged brass body (ASTM B283), nickel-plated brass (two-way or three-way)ball and stem, EPDM o-ring stem seals and EPDM with reinforced Teflon® bass seals
316 stainless steel ball and stem
Hot or chilled water, up to 50% glycol
-22° to 250℉ (-30° to 121℃)
Any Honeywell or Kele 44 in-lb non-spring return or spring return actuator will operate all VBN2, VBN3 assemblies up to 3"
360 psig (2482 kPa) @ 250℉ (121℃)
-5° to 140℉ (-20° to 60℃)
-40° to 150℉ (-40° to 65℃)
-4° to 131℉ (-20° to 55℃)
product family features
Parabolic flow insert constructed into the ball
Cv ratings similar to globe valves
Three-way body pattern similar to globe valves
Low torque means smaller, lower cost actuators
Removable manual override handle
Flexible bracket orientation
Available with or without actuator
more information & related documents
The VBN2 and VBN3 Series are Honeywell's characterized flow, low-torque, two-, and three-way ball valves. They are designed to provide Cv ratings that closely match industry-standard globe valves, and they have equal percentage flow characteristics. A single-style bracket maximizes simplicity and flexibility in mounting spring or non-spring return actuators. The valve bodies are 1/2" to 3" NPT sizes and use low-torque, low-cost actuators.
2-WAY, 1/2IN-NPT, 0.38 CV, BRASS TRIM, MODULATING (FAIL-SAFE OPEN) , 24VAC