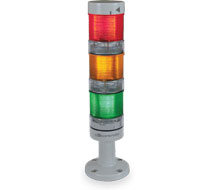 WTL-50BPV | c3controls | Alarms & Indication
VERTICAL MOUNTING BASE
Manufacturer:
c3controls
MPN:
WTL-50BPV
SKU:
WTL-50BPV
add to cart

product family specifications
-22° to 140℉ (-30° to 60℃)
-22° to 158℉ (-30° to 70℃)
Amber, blue, green, red or white
Type 1, 2, 3, 3R, 4/4X, 12 and 13, IP65 (as per IEC 60529)
0.3255-1.2 mm2 (AWG 22-16)
Only one wire permitted per termination
0.5 - 0.9 Nm (5 - 8 lb in)
product family features
Stackable design to allow up to five modules in a single assembly
Heavy duty polycarbonate construction for excellent durability, impact resistance, superior corrosion resistance, moisture rejection and electrical insulation
Easy maintenance and assembly
Continuous, flashing and rotary integrated LED light modules available, low power consumption for energy savings
Available continuous or intermittent sound modules with 80dB or 100dB output
Mounts to panel utilizing a four hole mounting pattern(38mm (1-1 1/2″)
Rated Type 1, 2, 3, 3R, 4/4X, 12 and 13, and IP65 for ingress protection
more information & related documents
The c3controls World Tower Lights, WTL Series with super bright integrated LEDs are a reliable source for all your signaling needs. Available in 24V AC/DC, 120V AC, and 240V AC. Five color lenses and LEDs are available with three styles of module illumination; continuous, flashing, and rotary. All c3controls 50mm diameter Tower Lights are UL Listed and are rated Type 4/4X as standard for warranty and corrosion resistance. In addition, tower light assemblies are also listed for Type 1, 2, 3, 3R, 12 and 13, and IP65 for ingress protection. Kele is the leading supplier of building automation products. When you need the right product, right now, count on Kele.