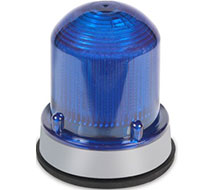 125XBRMB24DB | Edwards Signaling | Alarms & Indication
LED ON-FLASH BEACONS BLUE 24VDC BLACK BASE
Manufacturer:
Edwards Signaling
MPN:
125XBRMB24DB
SKU:
125XBRMB24DB
availability:Usually Ships in Less Than 5 Business Days
add to cart

product family specifications
18″ (45cm) 4-Wire Pigtail
Amber, Blue, Clear, Green, Red
Selectable through wire connection
Steady-On/Flashing (65 FPM)
Steady-On/Lightburst (420FPM)
On 1/2" or 3/4" NPT conduit using a 1/2" internal or 3/4" external conduit hub
-31° to 150℉ (-35° to 66℃)
3.875"H3.875″H(98.4mm) X 3.25″W (82.6mm)(98.4mm) X 3.25"W (82.6mm)
product family features
Available in 24 VDC or 120 VAC
Available with amber, blue, green, red or white lens
Available with gray or black base
Option for panel or conduit mounting
Available in dual mode Steady-On/Flashing LED or Steady-On/Lightburst LED versions
more information & related documents
The Edwards Signaling 125XBR Class XBR XTRA-BRITE™ LED beacons are UL and cUL listed dual mode signaling devices, available in two versions, Steady-On/Flashing (125XBRM) and Steady-On/Lightburst (125XBRZ). Both versions feature a corrosion resistant Type 4X enclosure and can be panel or conduit mounted. The lens is made of shatter resistant polycarbonate. Both the 125XBRM and 125XBRZ beacons are dual mode devices, maximizing application flexibility while reducing inventory costs. It can also be panel-mounted using the mounting gasket provided with the unit.
LED ON-FLASH BEACONS BLUE 24VDC BLACK BASE