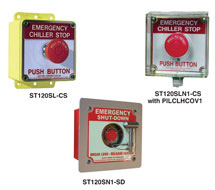 * product family image displayed
ST120-SN4XNM-P3-VS | Pilla Electrical Products | Alarms & Indication
BRK LENS STA 4X NON-MTL SUR 3 SELECT VENT STOP
Manufacturer:
Pilla Electrical Products
MPN:
ST120-SN4XNM-P3-VS
SKU:
ST120SN4XP3VS
product family specifications
product family features
Access control lid covers
more information & related documents
The ST120 Series operator station can be used to shut down equipment and/or initiate alarms during emergency conditions. The operator stations provide emergency disconnect capabilities with contacts rated 600 volts at 10 amps with AC power and 2.5 amps with DC. These operating stations are invaluable in building automation systems. All models carry a one-year warranty.UL file is E158147.
BRK LENS STA 4X NON-MTL SUR 3 SELECT VENT STOP
Pilla Electrical Products