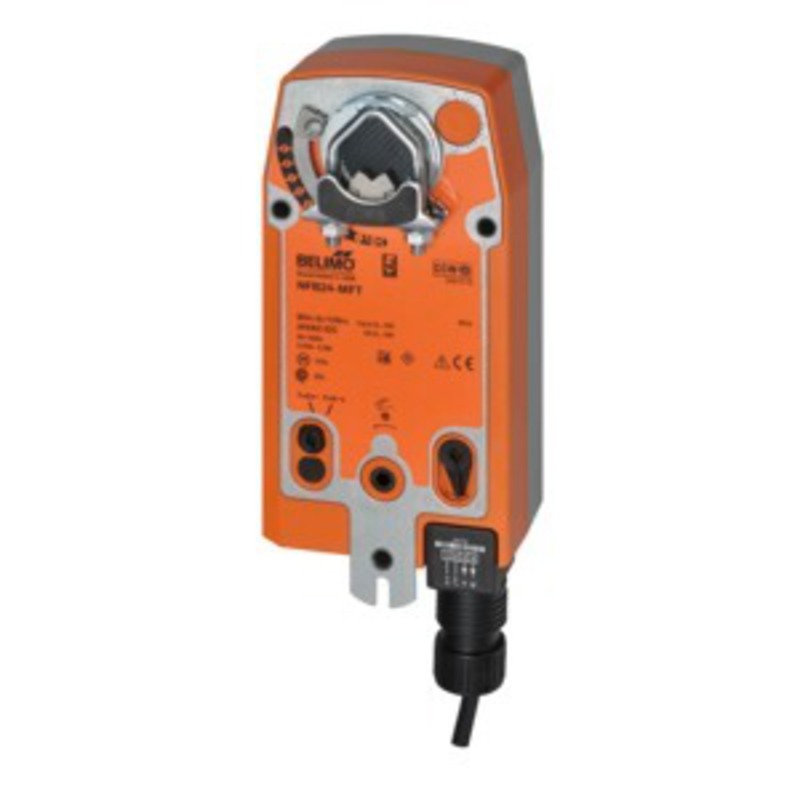 NFB24-SR-S | Belimo | Actuators & Dampers
Damper Actuator, 90 in-lb, Spring Return, 24V, Modulating, SW
Manufacturer:
Belimo
MPN:
NFB24-SR-S
SKU:
NFB24-SR-S
add to cart

product specifications
cULus acc. to UL60730-1A/-2-14, CAN/CSA E60730-1:02, CE acc. to 2004/108/EC and 2006/95/EC
Ambient Temperature Range
-22°F to 122°F [-30°C to 50°C]
Damper Actuator, 90 in-lb, Spring Return, 24V, Modulating, SW
Direction of Rotation (Fail-Safe)
reversible with CW/CCW mounting
Direction of Rotation (Motor)
reversible with built-in switch
(2) 3ft [1m], 18 GA appliance cables with 1/2" conduit connectors
NEMA 2, IP54, UL enclosure type 2
zinc coated metal and plastic casing
max. 95% RH non-condensing
100 k Ω for 2 to 10 VDC (0.1 mA), 500 Ω for 4 to 20 mA
5 mm hex crank (3/16" Allen), supplied
visual indicator, 0° to 95° (0° is full spring return position)
Power Consumption Holding
Power Consumption Running
24 VAC±20%, 50/60Hz, 24 VDC+20%/-10%
<20 sec @ -4°F to 122°F [-20°C to 50°C], < 60 sec @ -22°F [-30°C]
1/2" to 1.05" round, centers on 1/2" and 3/4" with insert, 1.05" without insert
Storage Temperature Range
-40°F to 176°F [-40°C to 80°C]
90 in-lbs [10 Nm] minimum
6 VA (class 2 power source)
product family features
Symmetrical, reversible rotation design for installation flexibility
ISO 9001 manufacturing facility assures high quality
NEMA 4 Enclosure Rating for outdoor locations available on AFB, EFB and NFB models
Low power consumption for high efficiency and smaller transformer sizing
MFT models offer flexibility to customize and adapt a single actuator to various controllers and applications
more information & related documents
The Belimo TFB, Belimo LF, Belimo NFB, Belimo AFB, and Belimo EFB Series direct-coupled air damper actuators provide control of dampers and valves for spring return applications. The damper actuators come in two-position, tri-state, proportional, and Multi-Function Technology (MFT) models. All include spring return to drive the damper or valve to a "normal" position when power is lost. Unique universal power supply models work with 24 Volt AC to 240 Volt AC or 24 Volt DC to 125 Volt DC. The new EFB Series is true spring return with a high 270 in-lb torque output and most models are available with optional NEMA 4 housing. It is possible to dual-mount EF actuators on one shaft, for a total of 540 in-lb. This actuator series is indispensable for Building Automation System BAS and HVAC applications.
ACT/SR/90INLB(10NM)/24V/2-10VDC
SGA, SGF Remore Positioners Data Sheet
ZG-JSL Jackshaft Linkage Installation Instructions
ZG-JSL Jackshaft Linkage Submittal
AFB and NFB Product News
AFB NFB Installation
AFB MFT Technical Data
AFB N4 Technical Data
AFB Technical Data
Belimo MFT Programming Codes
Spring Return Actuator Cross Reference
LF Product Data
NFB Technical Documentation