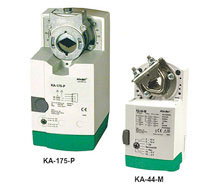 * product family image displayed
KA-44-M | Kele | Actuators & Dampers
44 IN-LB, NSR, MOD. (PROP & TRI-STATE)
Manufacturer:
Kele
MPN:
KA-44-M
SKU:
KA-44-M
Availability:
Contact Kele for more information
product family specifications
21-27 VAC, 50/60 Hz, 24 VDC (VAC only for KA-175-2T, KA-301-2T)
Synchronous with magnetic clutch (2-pos, floating), Brushless DC (proportional)
Switch selectable direct/reverse acting
-44, -88 <35 db @ 3' (1m)
-175, -301 <40 db @ 3' (1m)
150 steps (2-10 VDC), 190 steps (0-10 VDC)
60,000 cycles, 1.5 million repositions
-5° to 140°F (-20° to 60°C)
CE, CSA, plenum rated, UL FIle #E4436/E179109
product family features
Switchable drive direction
Service/Off switch (tri-state/two-position models)
Auto-adapt switch (proportional models)
Self-centering, reversible hub
Adjustable mechanical rotation stops
Dual SPDT auxiliary switches available
more information & related documents
The Kele Revolution™ KA-44, KA-88, KA-175, and KA-301 Series actuators are designed and tested to provide reliable non-spring return damper or valve control. In Building Automation Systems, BAS, and HVAC applications. Each damper actuator or valve actuator is powered by 24 Volt AC and 24 Volt DC and accept tri-state, two-position and proportional control signals.
44 IN-LB, NSR, MOD. (PROP & TRI-STATE)