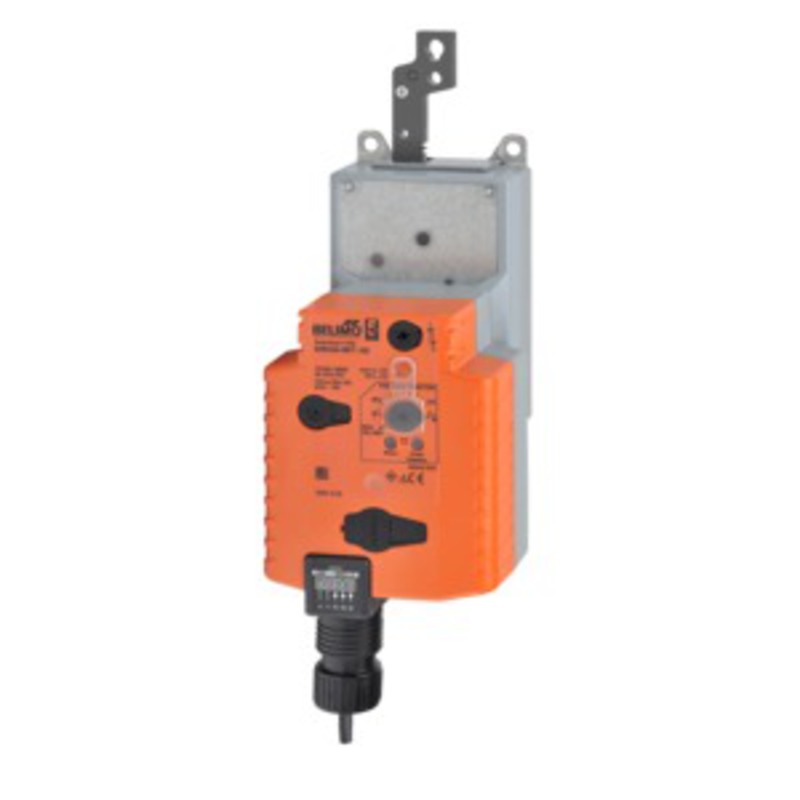 AHKX24-MFT-100 | Belimo | Actuators & Dampers
Damper Actuator, 101 lbf, Electronic Fail-Safe, 24V, MFT
Manufacturer:
Belimo
MPN:
AHKX24-MFT-100
SKU:
AHKX24-MFT-100
availability:Usually Ships in Less Than 7 Business Days
add to cart

product specifications
cULus acc. to UL60730-1A/-2-14, CAN/CSA E60730-1:02, CE acc. to 2004/108/EC
Ambient Temperature Range
-22°F to 122°F [-30°C to 50°C]
Damper Actuator, 101 lbf, Electronic Fail-Safe, 24V, MFT
Direction of Rotation (Fail-Safe)
Direction of Rotation (Motor)
reversible with built-in switch
3 ft [1m], 10 ft [3m] or 16 ft [5m] 18 GA appliance or plenum cables, with or without 1/2" conduit connector
2 to 10 VDC, 0.5 mA max, VDC variable
NEMA 2, IP54, UL enclosure type 2
max. 95% RH non-condensing
100 k Ω for 2 to 10 VDC (0.1 mA), 500 Ω for 4 to 20 mA, 1500 Ω for PWM, floating point and On/Off
Power Consumption Holding
Power Consumption Running
24 VAC ± 20%, 50/60 Hz, 24 VDC ± 10%
150 sec (default) per 4 inches [100mm], variable (90 to 150 sec)
Storage Temperature Range
-40°F to 176°F [-40°C to 80°C]
22 VA (class 2 power source)
product family features
Fail-safe operation upon power loss for positive damper or valve positioning
360 in-lb is more power than spring return models
Visible position indicator
more information & related documents
The Belimo GK Series fail-safe actuators provide 360 in-lb of torque for operation of dampers up to approximately 90 square feet. The direction of rotation is reversible, the fail-safe position is adjustable and a manual override button is standard. Add-on field mount auxiliary switches and feedback potentiometers are available.
ACT/SR/101LBF(450NF)/24VAC/VDC/MFT/2-10VDC