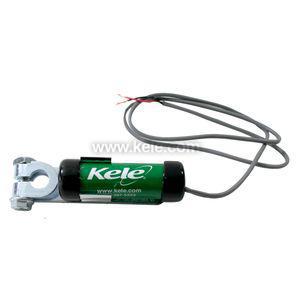 TT-470 | Kele | Actuators & Dampers
Tilt Transducer 1/2 In Crank Arm
Manufacturer:
Kele
MPN:
TT-470
SKU:
TT-470
Availability:
64 In Stock
add to cart

product specifications
Tilt Transducer 1/2 In Crank Arm
TILT TRANSDUCER 1/2 IN CRANK ARM
product family features
Standard 2-wire loop-powered 4-20 mA signal for compatibilty with any automation system
Easy and quick installation saves time and money
Field programmable rotation range for full flexibility
Polarity correcting for fool-proof wiring
more information & related documents
The Kele TT-470 Series solid state tilt transducer is a programmable, 2-wire, 4-20 mA loop-powered device specifically designed to provide positive feedback of damper or valve position to a building automation system. The transducer is quickly and easily field programmed, using an integral pushbutton, to span any shaft rotational range between 10° and 360° (one full rotation). The TT-470 contains no mercury or other hazardous substances and meets or exceeds all current RoHS environmental standards. The transducer includes an integral crankarm style mounting bracket and is available in 2 models. The TT-470 fits a 1/2" shaft and the TT1-470 fits a 1" shaft. The transducer must be mounted on a horizontal shaft, typically a damper shaft or a globe valve linkage shaft (for example the Honeywell Q5020 linkage).
TILT TRANSDUCER 1/2 IN CRANK ARM
TT-470 Series Datasheet