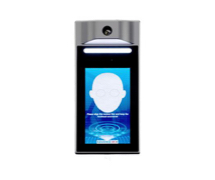 * product series image displayed
TSCAN-750 | AdvanceIR | Access Control
TEMPERATURE SCANNING ENTRY SYSTEM IR TEMPERATURE MEASUREMENT WITH FACIAL RECOGNITION
Brand:
AdvanceIR
MPN:
TSCAN-750
SKU:
TSCAN-750
Availability:
Usually Ships in Less Than 10 Business Days
product series specifications
Temperature Measurement Parameters:
†Range:
† 89.6°F ~ 113°F (32°C~45°C)
†Distance:
†8 in ~ 20 in (0.2m~0.5m)
†Response Time:
†0.5 seconds
System Hardware Parameters:
†Processor:
†Operating System
†Operating System:
†Android 8.1
†Resolution:
†Color: 200W (1920 x 1080), Infrared: 130W (1280 x 960)
†Imaging Devices:
†Color: AR0230, Infrared: AR0130
†Identification Distance:
†12 in ~ 47 in (0.3m-1.2m)
†Field of View (FOV) Corner:
†Horizontal: 89° / Vertical: 57° / Diagonal: 98°
†Minimum Illumination:
†Color: 'â•0.01LUX at F1.2, Infrared: 'â•0.01LUX at F1.2
†Signal-to-Noise Ratio:
†Color: 'â•4dB, Infrared: 'â•44dB
†Dynamic Range:
†Color: 'â•105dB, Infrared: 'â•83.5dB
†Screen Size:
†7 inch (178mm)
product series features
Facial Recognition Library: Up to 50,000 Identities
Identification Accuracy: > 99%
Live Detection: Bi-eye near-infrared / Speed: 400ms (approx.)
Facial Detection: 1080P @ 25fps / Speed: 200ms (approx.)
Multiple devices can be used at one location
Record keeping of attendance and body temperatures
For indoor use only
more information & related documents
Advance IR TSCAN-750 Temperature Scanning Entry System combines traditional infrared (IR) temperature measurement with facial recognition. Simple operation requires the user to stand in front of the device, and within one second, their identity and body temperature are automatically logged and recorded. After the user's identity is authenticated and a normal body temperature is recorded, the user is granted entry/access to pass. If the user's body temperature exceeds a normal value, the system will automatically alarm and prohibit passage.
TEMPERATURE SCANNING ENTRY SYSTEM IR TEMPERATURE MEASUREMENT WITH FACIAL RECOGNITION