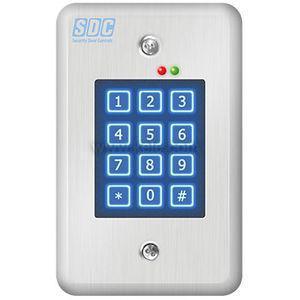 918U | Security Door Controls | Access Control
Entry Check Keypad
Brand:
Security Door Controls
MPN:
918U
SKU:
918U
product series specifications
Supply Voltage:
12/24 VDC or VAC
Battery:
10mA typical, 150mA maximum
:
Relay 1 Form "C", 5 Amps @ 24VDC
:
Relay 2 Form "C", 1 Amps @ 24VDC
:
Outputs 3 & 4 Switch to common, 100mA @ 30VDC
Operating Temperature:
-20° to 130°F (-30° to 54°C)
Operating Humidity:
5 to 95% (non-condensing)
Dimensions:
3'Ä=W x 5'Ä=H x 3'Ä=D (7.6 x 12.7 x 7.6 cm)
product series features
500 Users, 1-6 digit PIN codes
4 outputs, 2 relay and 2 solid state outputs timed or latching (on/off)
Assign entry PIN's to relays 1 and/or 2
LED Status: Access, lockout
Tactile keys with selectable audible volume for key depression or output activation
Timed anti-passback
Keypad tamper lockout
Request-to-Exit/Enter input
more information & related documents
The SDC 918 and 920 EntryCheck™ are stand alone digital keypads designed to control access of a single entry point for facilities with up to 500 users. Each user is assigned a personal identification number (PIN). Keypad entry of a valid one to six digit code activates one or both of the output relays which releases an electric door lock.