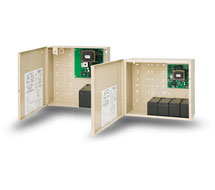 * product series image displayed
631RFA | Security Door Controls | Access Control
15 AMP 12/24VDC PWR SPLY X FIRE RELAY
Brand:
Security Door Controls
MPN:
631RFA
SKU:
631RFA
Availability:
Usually Ships in Less Than 9 Business Days
product series specifications
See Related Documents Tab for product datasheet and specifications:
product series features
Modular design
Filtered and regulated output
Field selectable 12/24VDC
Fire/Emergency release input
Field selectable manual reset input (n/a with 631RF(A))
Input, output and battery LED status indicators
Thermal and short circuit protection with auto reset
Battery charger
Low battery disconnect
more information & related documents
SDC's 600 Series access control power supplies have been developed specifically to support access controls and electric locking hardware. The circuitry design is ideal for the inductive loads generated by access control hardware for high performance and longevity. The modular design is built around several different control modules to meet the most demanding component interface and control logic requirements.
15 AMP 12/24VDC PWR SPLY X FIRE RELAY