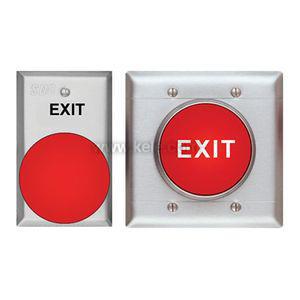 446U | Security Door Controls | Access Control
Momentary Mushroom Exit Switch, Red
Brand:
Security Door Controls
MPN:
446U
SKU:
446U
Availability:
Usually Ships in Less Than 7 Business Days
product series specifications
Contact Rating:
6 Amp @ 30VDC
Timer:
1 - 60 seconds, 12/24 AC/DC SPDT 2A (443U Only)
Connections:
Screw terminals
:
1 gang box 2.87'Ä= x 4.5'Ä= (7.3 x 11.4 cm) (446U Only)
:
2 gang box 4.5'Ä= x 4.5'Ä= (11.4 x 11.4 cm)
product series features
Momentary DPST contact
Single or Double gang
Red button
LED options
Multiple finishes available
more information & related documents
The conspicuous 440 Series heavy duty switch assemblies incorporate a 2-5/8 inch diameter mushroom button and heavyduty water resistant contacts. The large 2-gang mushroom assembly includes a heavy-duty steel bezel around the button to guard against abuse. When utilized as an Exit or REX switch, the assembly is easy to activate and stands out for persons without prior knowledge of egress operation.
MOMENTARY MUSHROOM EXIT SWITCH, RED