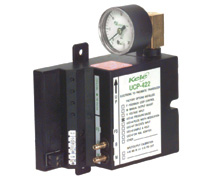 * product family image displayed
UCP-422-M2V1 | Kele | Transducers
V/PSI XDUCER W/MANUAL ADJUST
Manufacturer:
Kele
MPN:
UCP-422-M2V1
SKU:
UCP-422-M2V1
Availability:
Usually Ships in Less Than 14 Business Days
add to cart

product family specifications
None, loop powered, 24 VAC/VDC
180 mA maximum (half-wave)
4-20 mA, 1-5 VDC, 2-10 VDC
515 scim (135 cm3/s) @ 20 psig (138 kPa) supply
Brass barbs for 1/4" OD tubing
.008 scfm (3.8 cm3/s) @ 20 psig (138 kPa) supply
3-15 psig (21-103 kPa), manual override
5 to 95% RH (non-condensing)
more information & related documents
The Kele M Option manual output adjust allows local adjustment of the UCP-422 output. This feature simplifies checkout and troubleshooting and is available in both loop-powered and 24V-powered configurations. The 24V-powered configuration is provided standard when the M Option is ordered with the (F) Feedback, (V) Voltage, (44) Pulse Width, or (44T) Tri-state options for the UCP-422.
V/PSI XDUCER W/MANUAL ADJUST