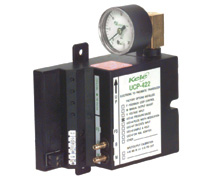 * product family image displayed
UCP-422-FM2V2-47 | Kele | Transducers
V/PSI XDUCER, FB, 24V PWR, 2-10V INPUT, DIN
Manufacturer:
Kele
MPN:
UCP-422-FM2V2-47
SKU:
UCP422FM2V247
Availability:
Usually Ships in Less Than 14 Business Days
add to cart

product family specifications
Without Options None, loop powered
With F, M, V Options 180 mA maximum (half-wave)
With UCO Options 100 mA maximum (half-wave) at 24 VAC, 50 mA at 24 VDC
4-20 mA, 2-10 VDC (V option)
500Ω @ 4-20 mA, 160 kΩ (V option)
515 scim (135 cm3/s) @ 20 psig (138 kPa) supply
Brass barbs for 1/4" OD tubing
0.008 scfm (3.8 cm3/s) @ 20 psig (138 kPa) supply
5 to 95% RH (non-condensing)
product family features
Slim-line mounting to save panel space
1/4" (0.64 cm) barbed tube connectors
Quick-disconnect terminals
Loop-powered control (base model)
No external filter required
more information & related documents
The UCP-422 Series electronic/pneumatic transducer provides low-cost pneumatic control of valves, dampers, or other pneumatic devices. This electro magnetic transducer consists of a totally-enclosed transducer with provisions for optional DIN rail or surface mounting in either of two planes. These transducers are proven performers in building automation systems, BAS. Externally-mounted pneumatic filters are not required. Quick-disconnect terminals provide easy wiring removal for servicing. With DIN rail mounting this compact device requires only a 4"H x 2"W (10.2 x 5.1 cm) mounting area, providing efficient use of panel space.
V/PSI XDUCER, FB, 24V PWR, 2-10V INPUT, DIN