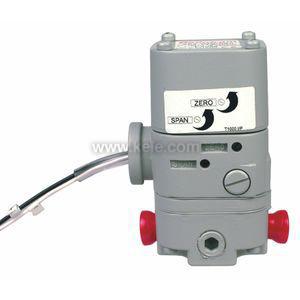 961-070-000 | Centro | Transducers
Current/pneumatic transducer, 4-20 mA input, 3-15 psig (21-103 kPa) output
Manufacturer:
Centro
MPN:
961-070-000
SKU:
T-1000
availability:Usually Ships in Less Than 8 Business Days
add to cart

product specifications
Current/pneumatic transducer, 4-20 mA input, 3-15 psig (21-103 kPa) output
TRANSDUCER 4-20MA 3-15PSI
product family features
Wide supply pressure range
Convenient external span and zero adjustments
Bracket included for panel or wall mounting
more information & related documents
The T-1000 current/pneumatic transducer is industrial grade for high demand applications, including building automation systems, BAS. The pneumatic transducer reduces a supply pressure to a regulated output pressure that is directly proportional to a 4-20 mA input signal. An integral pneumatic volume booster is included in the design to provide high flow capacity up to 20,736 scim (20 m3/hr).
TRANSDUCER 4-20MA 3-15PSI
T-1000 Datasheet