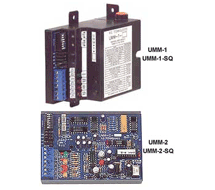 * product family image displayed
UMM-1-SQ-47 | Kele | Transducers
UNIV.MATH MODULE/SQ RT/DINRL
Manufacturer:
Kele
MPN:
UMM-1-SQ-47
SKU:
UMM-1-SQ-47
add to cart

product family specifications
24 VAC ±10%, half-wave; or 24 VDC ±10%
50 mA maximum @ 24 VDC; 100 mA maximum @ 24 VAC
Standard ±1% of full scale
SQ Model 1% FS @ 25%-100% of range, 1.5% FS @ 10%-25% of range, 2% FS @ 5%-10% of range, 5% FS @ 0%-5% of range
0-5 VDC, 1-5 VDC, 0-10 VDC, 2-10 VDC, 0-20 mA, or 4-20 mA
70 kΩ with voltage input; 250Ω with current input
Direct or reverse, DIP switch selectable
1 analog output, voltage or current
500Ω minimum @ 5 VDC; 1000Ω minimum @ 10 VDC; 650Ω maximum @ 20 mA
Selectable: 0-20 mA or 4-20 mA
Selectable: 0-5 VDC, 1-5 VDC, 0-10 VDC or 2-10 VDC
5% to 95% RH (non-condensing)
UMM-1 3.4"H x 2.0"W x 4.8"D (8.6 x 5.1 x 12.4 cm)
UMM-2 3.3"H x 4.6"W x 1.0"D (8.3 x 11.8 x 2.5 cm)
product family features
DIP switch-selectable operating modes
Accepts voltage or milliamp input signals
User-selectable direct or reverse acting
Slim-line design housing or snap-track mounted models
Furnished with detailed setup instructions
more information & related documents
The UMM Series universal math module is a unique multifunction micro-computer based interface that can solve a variety of signal selection and manipulation applications in building automation systems, BAS, and other environments. The UMM-1 is furnished in a unique slim-line design housing, which saves panel space. It can be ordered with an optional DIN rail-mounting adapter. The UMM-2 is a snap-track mounted version that operates the same as the UMM-1. These universal math modules accept up to four analog inputs, providing a single analog output according to the selected operating mode. This versatile product allows the user to select from many operating modes.
UNIV.MATH MODULE/SQ RT/DINRL
UMM Datasheet