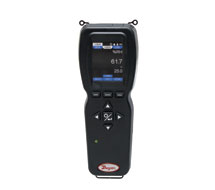 * product family image displayed
UHH-C1 | Dwyer Instruments | Tools & Test Equipment
UHH-C1 KIT SOFT CASE REPLACEMENT
Manufacturer:
Dwyer Instruments
MPN:
UHH-C1
SKU:
UHH-C1
Availability:
Usually Ships in Less Than 10 Business Days
add to cart

product family specifications
English, German, Italian, Portuguese, Spanish
1 FPM, 0.1 MPS, 0.1 CFM & M3/HR; 0.1 ℉ & ℃ ; RH 0.1%
Air Velocity FPM, MPH, KN, M/H, M/S K/H, FPS
Flow CFM, M3/HR, M3/S, GPM, GPH, GPD, LPS, LPM, LPH
Thermoplastic elastomer over polycarbonate
3V BR1225 lithium ion battery, install functional, non-replaceable and 3.7V lithium ion battery, installed functional, non-replaceable. (Note: Intended to be operated with power cables less than 3 m in length.)
Maximum Wireless Distance
CE (while not charging), FCC compliant
product family features
UHH base quickly recognizes wired or wireless probes and modules
Inherent rubber overmold housing combined with protective caps enable units to withstand abuse in dusty environments
Manual or automatic data logging models
Internal memory or expanded memory with portable SD card
more information & related documents
The Dwyer Model UHH universal handheld test instrument is a highly versatile instrument that offers the utmost flexibility and ease of user operation by having the capacity to work with a variety of Dwyer sensing modules and probes. Additional wired and wireless probes or modules are instantly recognized by the UHH without any use reprogramming or alteration, allowing seamless sensor addition, upgrade or replacement.
UHH-C1 KIT SOFT CASE REPLACEMENT