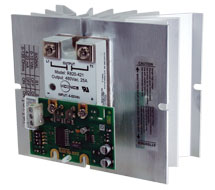 * product family image displayed
R820-323 | Schneider Electric Buildings | Thermostats & Controllers
SCR POWER CONTROLLER 240 V, 10 A, 3 PHASE
Manufacturer:
Schneider Electric Buildings
MPN:
R820-323
SKU:
R820-323
Availability:
Contact Kele for more information
add to cart

product family specifications
24 VAC, +10%/-15% @ 2 VA, 50/60 Hz;
0-10 VDC (2-10 VDC control range), 4-20 mA, 0-135Ω,
Cuts off at rise to 180°F (82°C), self-resetting
32° to 95°F (0° to 35°C), full rating, amperage derated up to 175°F (80°C)
0 to 95% RH (non-condensing)
product family features
Compact, microprocessor-based controller saves space in control panels
Integrated, self-resetting thermostatic protection increases safety
Multi-input control signal maximizes application and system flexibility
Integral heat sink minimizes installation time and wiring costs
Status LED confirms proper operation
more information & related documents
The Viconics R820 Series SCR (Silicon Control Rectifier) controllers provide cost effective modulation of electric loads using industry standard proportional control signals from thermostats or building automation systems. The R820 Series incorporates a compact control board mounted to a multi-fin, anodized heat sink with an exceptionally high heat dissipation rate. Models are available in single phase or 3-phase and can control loads up to 600V.
SCR POWER CONTROLLER 240 V, 10 A, 3 PHASE
Schneider Electric Buildings