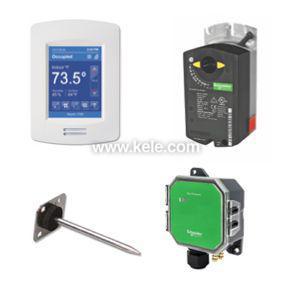 VZ8250VAVKIT1 | Schneider Electric Buildings | Thermostats & Controllers
Stand-Alone VAV Zone Bundle, Including VZ8250 Room Controller, SmartX Damper Actuator, Differential Pressure/Air Velocity Transducer and Duct Mount Temperature Sensor (4")
Manufacturer:
Schneider Electric Buildings
MPN:
VZ8250VAVKIT1
SKU:
VZ8250VAVKIT1
Availability:
Lead time > 15 days. See alternatives below or chat with Sales.
add to cart

product specifications
Stand-Alone VAV Zone Bundle, Including VZ8250 Room Controller, SmartX Damper Actuator, Differential Pressure/Air Velocity Transducer and Duct Mount Temperature Sensor (4")
Stand-Alone VAV Zone Replacement Bundle
product family features
Low-voltage microprocessor-based Variable Air Volume (VAV) controller.
Configurable to support damper control for Pressure Independent (PI), and Pressure Dependent (PD) VAV systems.
Pre-programmed, containing all required I/O to accomplish VAV application.
Embedded local configuration utility using the touch screen allowing for simplified configuration, sequence selection, re-
initialization, setting of setpoints, and control of display settings.
Accurate temperature control using a PI (Proportional-Integral) algorithm.
Integrated changeover function.
Configurable temporary or permanent local override setpoints.
Local or remote override during unoccupied mode.
Adjustable local unoccupied heating and cooling setpoint limits, as well as maximum heating and minimum cooling limits.
Adjustable dead and proportional bands.
Remote night set back.
Door, window, wall, ceiling, or motion detection.
Custom programs using Lua Scripts.
more information & related documents
The VZ8250 Room Controller is a new cost-effective solution that provides contractors with an easy to implement solution for Variable Air Volume (VAV) applications. It is designed for zone temperature control in Variable Air Volume systems. An Air Handling unit and a VAV rooftop unit serve many zones within a building by supplying a varying amount of supply air at a constant supply air temperature. Additional flexibility and energy savings can be achieved with optional wireless door, window, motion and water leak sensors. An elegantly simple casing combines with configurable screen colors to match decor. Display your own logo and custom messages on screen to reinforce your brand and provide a more enjoyable occupant experience.
VAV ZONE REPLACEMENT BUNDLE
Schneider Electric Buildings
Application Guide
BACnet Integration Guide
Installation Guide
Modbus Integration Guide
Technical Datasheet
User Interface Guide
User Interface Quickstart Guide
VZ8250VAVKIT1-MS41-6043 Datasheet
VZ8250VAVKIT1-MS41-6043 Installation Guide
VZ8250VAVKIT1-EP Series Datasheet
VZ8250VAVKIT1-EP Series Installation Manual
VZ8250VAVKIT1-T Series Datasheet
VZ8250VAVKIT1-T Series Installation Manual