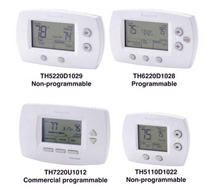 * product family image displayed
TH6110D1021/U | Resideo | Thermostats & Controllers
PROG1H/1CW/LRGDSPLY&AUTOFAN&SYSSWITCH
Manufacturer:
Resideo
MPN:
TH6110D1021/U
SKU:
TH6110D1021
Availability:
Lead time > 15 days. See alternatives below or chat with Sales.
add to cart

product family specifications
Conventional and heat pump
LCD 2.98 to 5.09 sq in, model dependent (°F or °C)
4 to 6 soft keys, model dependent
Configurable, TB7220 only
See terminal designation table
10 years, then AA batteries required
Selectable, Heat/Off/Cool/Auto, plus emergency heat on TH5220 and TH6220
Heating 40° to 90°F (4.5° to 32°C)
Cooling 50° to 99°F (10° to 37°C)
Full setpoint span (TH5220, TH6220, TB7220 only)
Proportional plus integral (PI) TB7220 tuned for larger spaces/equipment
3°F (1.7°C) fixed (all except TB7220) Adjustable 2° to 9°F (1.1° to 5°C), TB7220 only
10K thermistor, TB7220 only
±1 minute/month, 10-year battery TH6000, TB7220 only
Adjustable cycles per hour and minimum off time
Two, indoor and outdoor, TB7220 only
18 to 22 AWG, no shield required
Night Setback Program Times
TB7220 7-day, 2 or 4 periods/day
TH6220 5+2- or 5+1+1-day, 4 periods/day
32° to 120°F (0° to 49°C)
TB7220 0° to 120°F (-18° to 49°C)
0 to 90% RH (non-condensing)
TH5110 3.42"H x 4.5"W x 1.3"D
TH6000, TH5220 3.56"H x 5.81"W x 1.5"D
TB7220 3.75"H x 6.0"W x 1.4"D
5 years, all except TB7220 (2 years)
product family features
Programable and Non-Programable Models
Large digital backlit display
Auto or manual heat-cool operation
more information & related documents
The TH5000 Series FocusPro™ Residential and Light Commercial Thermostats are single-stage or multi-stage digital thermostats made for typical residential heating and cooling systems with either conventional heat or heat pump. The TH6000 Series thermostat is programmable for five days plus two days. It is available in single-stage or multi-stage models for typical residential H/C systems with either conventional heat or heat pump. The TB7220 is a seven-day programmable thermostat made for light commercial applications. The TB7220 is a multi-stage thermostat for conventional heat or heat pump with additional algorithms to accommodate larger spaces and larger equipment in commercial applications. Algorithms include configurable recovery ramp and pre-occupancy purge cycle. It also has remote sensor capability.
PROG1H/1CW/LRGDSPLY&AUTOFAN&SYSSWITCH