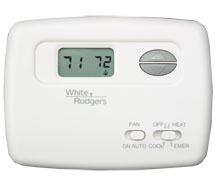 1F89EZ-0251-6PK | White-Rodgers | Thermostats & Controllers
TSTAT/HP/NON-PROG/HOME/SLEEP/AWAY/BLUE/2IN SCRN
Manufacturer:
White-Rodgers
MPN:
1F89EZ-0251-6PK
SKU:
1F89EZ-0251-6PK
availability:Usually Ships in Less Than 7 Business Days
add to cart

product family specifications
0.05 to 1.2 Amps (load per terminal)
Materials Of Construction
1F86-0471 and 1F83-0471 4-2/5″Lx3 2/5≥Hx2 1/8″D,
1F83-0422 5-1/8″Lx3-2/5″Hx1 1/4″D,
1F89-0211 and 1F86-0244 4-4/5″Lx3-4/8″x1 3/4″D,
1F86EZ-02516-1/4″Lx4-1/4″Hx1 3/4″D
1F89-211, 1F86-0244 and 1F86-344
1F86-0471, 1F86ST-0471 and 1F83-0471 0.85 lbs ,
Additional Specifications
-4° to 150 ℉ (-20° to 65℃ ),
1F86-344, 1F86-0471, 1F86ST-0471, 1F86-0244,1F86EZ-0251 Single Stage,
1F83-0471and 1F83-0422 Universal - SS, MS or HP
R, C, Y, W2, G, O/B, L, E,
1F86-344 RC, RH, C, W, Y, G, O, B,
1F86-047, 1F86-0244,1F86EZ-0251 RC, RH, C, W, Y, G, O/B,
1F83-0471 RC, RH, C, G, W/E, W2, Y, Y2, O/B, 6, L,
1F83-0422 R, C, Y, W2, G, O/B, L,
product family features
White Rodgers Classic White Color
Easy Terminal Connections
Options Ranging from HP to MS
Fossil Fuel option on most models
more information & related documents
The 1F83, 1F86, and 1F89 series thermostats span across the 2 inch, 4 inch, and Classic green diplay families of White Rodgers thermostats. The 1F83 series is in the 4 inch Blue™ display family and is a universal model configurable for single stage, multistage, or heat pump systems. The 1F86 series is available in all three families configurable for single stage or heat pump. The 1F89 series comes in the 2 inch Blue and Classic families and is a heat pump only model. White Rodgers offers one of the widest selection of thermostats available and Kele has most of them available for shipping same day.
TSTAT/HP/NON-PROG/HOME/SLEEP/AWAY/BLUE/2IN SCRN