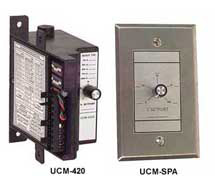 * product family image displayed
UCM-SPA-50-90F | Kele | Thermostats & Controllers
REMOTE SETPOINT POT FOR UCM-420A, 50-90 DEG F
Manufacturer:
Kele
MPN:
UCM-SPA-50-90F
SKU:
UCM-SPA-50-90F
Availability:
Usually Ships in Less Than 1 Business Days
add to cart

product family specifications
130 mA maximum @ 24 VAC, 65 mA maximum @ 24 VDC
4-20 mA, 1-5 VDC, three-wire potentiometer or PreCon two-wire potentiometer (ST-S3E-XA)
0.1-2.65, 5.2, 12.85, 25.6, or 0.59-2.93 sec
4-20 mA, 1-5 VDC or PreCon Type III thermistor (thermistor range 50° to 90°F)
250Ω (mA signal), 10 k (voltage signal)
Remote Setpoint Potentiometer
32° to 158°F (0° to 70°C)
5 to 95% (non-condensing)
UCM-420A 1.3 lb (0.61 kg)
UCM-SPA 0.75 lb (0.34 kg)
product family features
DIP switch/jumper programming
Selectable throttling range
Selectable integral reset rate
Setpoint potentiometer on unit
Optional DIN rail mounting
Optional setpoint potentiometer with stainless steel wall plate (UCM-SPA)
more information & related documents
The Kele Model UCM-420A is a low cost microprocessor-based Proportional plus Integral (PI) controller that may be used for a wide variety of control applications. All setup and programming is done by DIP switches and bottle plug jumpers on the Model UCM-420A. Set points may be local and/or remote. The output may be direct- or reverse-acting.
REMOTE SETPOINT POT FOR UCM-420A, 50-90 DEG F
Operations Manual