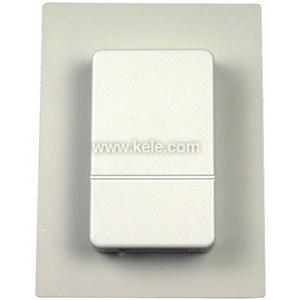 ST-S81K-XA | Kele | Temperature Sensors & Transmitters
100Ω Decorator RTD @ 32°F (0°C), 385 platinum curve (yellow leads), Setpoint adjustment (10,000Ω to 35,000Ω, resistance input)
Manufacturer:
Kele
MPN:
ST-S81K-XA
SKU:
ST-S81K-XA
availability:Usually Ships in Less Than 14 Business Days
add to cart

product specifications
10-531||KT1||T81U-XR||T85U-XR||T91U-XR||UR||DCP-1.5-W||DCPA-1.2
Room Temperature||Classroom Temperature||Office Temperature||Washdown Environment
100Ω Decorator RTD @ 32°F (0°C), 385 platinum curve (yellow leads), Setpoint adjustment (10,000Ω to 35,000Ω, resistance input)
ROOM TEMP SENSOR, 100 RTD 385, WALL ENCLOSURE, SETPOINT, NO OVERRIDE
product family features
±0.36℉ (0.2℃) thermistor accuracy
±0.27℉ (0.15℃) or 0.54℉ (0.30℃) RTD accuracy
more information & related documents
The PreCon Model ST-S*K White Decorator Thermistor and RTD Sensor provides precision room temperature sensing for building automation systems. The thermistor element is made of a highly stable, pre-aged precision thermistor material accurate to within ±0.36℉ (0.2℃) while the platinum RTD is avaialble in 100Ω and 1000Ω models. Both are compatable with most HVAC systems.
WALL KELE ENC 100 OHM RTD STPNT ADJ 10K-35K