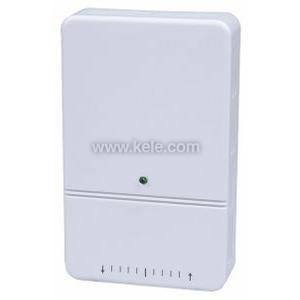 KTR91-XA20K-XLED | Kele | Temperature Sensors & Transmitters
Kele Room Sensor, 1000Ω RTD @ 32°F (0°C), 375 Platinum Curve (Green leads), Setpoint Adjust with 20,000Ω Span, LED Lamp Indicator, Standard 24 VAC/VDC Voltage
Manufacturer:
Kele
MPN:
KTR91-XA20K-XLED
SKU:
KTR91-A20K-LED
availability:Usually Ships in Less Than 14 Business Days
add to cart

product specifications
T81U-XR||T85U-XR||T91U-XR||UR||DCP-1.5-W||DCPA-1.2
Room Temperature||Classroom Temperature||Office Temperature||Washdown Environment
Kele Room Sensor, 1000Ω RTD @ 32°F (0°C), 375 Platinum Curve (Green leads), Setpoint Adjust with 20,000Ω Span, LED Lamp Indicator, Standard 24 VAC/VDC Voltage
TEMP SENSOR, ROOM, 1K RTD 375, DECORATOR, SETPOINT,
more information & related documents
The Kele Model KTR Room Temperature Sensor is a cost-effective room temperature sensor with an accuracy of ±0.5° (0.28°C). The thermistor is made of a very stable, pre-aged material that offers the reliability needed in control systems. The platinum RTD comes in 100 ohm and 1000 ohm and is compatible with most HVAC systems and as part of a Building Automation Systems, BAS. All sensors come with a three-year warranty.
WALL KELE 1K OHM RTD 20K POT LED
Data Sheet