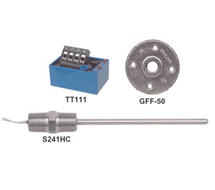 TT111PD1BJ | Minco Products | Temperature Sensors & Transmitters
XMTR 100 OHM 30 TO 250 F
Manufacturer:
Minco Products
MPN:
TT111PD1BJ
SKU:
TT111PD1BJ
availability:Call Kele For Availability
add to cart

product family specifications
-58° to 932℉ (-50° to 500℃)
Two-wire nickel coated stranded copper, 24" long 22 AWG fiberglass insulated
TT111H-0800 Fixed Transmitter
1000Ω platinum 0.00375 Ω/Ω/℃
0° to 800℉ (-18° to 427℃)
Calibration accuracy ±0.05% of span
-58° to 160℉ (-50° to 70℃)
product family features
Ideal for Boiler stack applications
All stainless steel probe
24″ high temperature leads
High temperature span, 0° to 800℉ (-18° to 427℃)
more information & related documents
The Minco Model S241HC High Temperature Sensor is directly inserted into boiler stacks, steam lines, and other applications to monitor temperature. These high temperature sensors are indispensable in environments where the temperature may rise above the operating range of standard sensors. When used with the Model TT111H-0800 Transmitter, it provides a 4-20 mA output that is linear from 0° to 800℉ (-18° to 427℃). These sensors are proven performers in high-demand applications or as part of a Building Automation System, BAS.