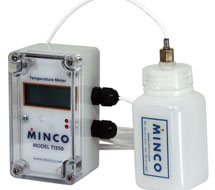 AS103282PM120BM | Minco Products | Temperature Sensors & Transmitters
THERMAL VIAL 100 OHM RTD 120IN -58 TO 122F
Manufacturer:
Minco Products
MPN:
AS103282PM120BM
SKU:
AS103282PM120BM
availability:Usually Ships in Less Than 28 Business Days
add to cart

product family specifications
8.5 to 35 VDC loop powered
-148° to 32℉ (-100° to 0℃)
-58° to 122℉ (-50° to 50℃)
100Ω platinum three-wire 0.00385 Ω/Ω/℃
1000Ω platinum two-wire 0.00385 Ω/Ω/℃
3-1/2 digit LCD, updates 3 times per second
Probe: -328° to 248℉ (-200° to 120℃)
Transmitter: -13° to 185℉ (-25° to 85℃)
Probe: material Stainless steel
Thermal: vial 6 oz (175 ml) polyethylene bottle with cap
Thermowell: Delrin Enclosure: Polycarbonate
22 AWG Teflon insulated with TFE jacket overall
4.5" L x 2.6" W x 2.2" D (11.5 x 6.5 x 5.6 cm)
product family features
Sensor and transmitter calibrated together
Sealed vial eliminates leakage
NIST certification include
Used in Freezer applications
more information & related documents
The Minco AS10 Thermal Vial Temperature Sensing System is ideal for freezers, coolers, and refrigeration units to monitor the temperature of the contents, rather than the air temperature. The vial is filled with fluid such as glycol or water which emulates the material being stored. The corresponding 4-20 mA output is matched calibrated to the RTD for improved system accuracy.
THERMAL VIAL 100 OHM RTD 120IN -58 TO 122F
AS10 datasheet