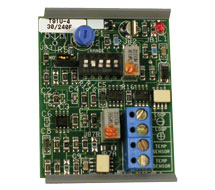 * product family image displayed
T85U-13 | Kele | Temperature Sensors & Transmitters
XMTR 1K OHM 385 32/212F
Manufacturer:
Kele
MPN:
T85U-13
SKU:
T85U-13
Availability:
387 In Stock
product family specifications
Supply Voltage:
10.5-45 VDC
Transmitter Accuracy:
±0.2°F or 0.2% of the span TCR 0.00385 Œ©/Œ©/°C
Signal Output:
4-20 mA @ 675Ω, two wire loop-powered, except display @ 375Ω
Rangeability:
-30° to 250°F (-34° to 121°C) Minimum span of 40°F (22°C)
Zero:
-30° to 210'Ñâ (-34.4° to 98.9'ÑÉ)
Minimum Span:
40'Ñâ (22'ÑÉ)
Usable Range:
-30° to 250'Ñâ (-34.4° to 121.1'ÑÉ)
Loop Calibration Output:
20 mA ± 0.2%
Sensor Element:
1000Œ© platinum TCR 0.00385 Œ©/Œ©/°C
Operating Temperature:
0° to 140°F (-18° to 60°C)
Operating Humidity:
0% to 95% non-condensing
Wiring Terminations:
Terminals
Weight:
0.16 lb (0.07 Kg) w/o options
Approvals:
CE (EN50081-1, EN50082-1)
Optional CE (EN50081-2, EN50082-2) Industrial RF/EM Hardened:
product family features
Class A Sensors,Dip switch rangeable,Loop calibration test signal,Low cost,Snap-track mounting,Loop-powered LED indication,Fits into card slot of ST-U85 housing,CE approved (commercial and industrial),Available as a complete assembly,Conformal coated
more information & related documents
The Kele T85U 1000 ohm RTD rangeable transmitter is a range selectable, two-wire 4-20 mA RTD transmitter used with Type 85 1000 Ohm platinum RTD sensors. The transmitter is available in six standard ranges, or it can be set for any range between -30 degrees to 280 degrees (-34 degrees to 156 degrees C) with a minimum span of 40 degrees (22 degrees C). To adjust the T85U, set the DIP switches to match the desired range, and use the zero and span pots to fine tune. A high accuracy digital ohmmeter and decade box are required. The T85U has a special 20 mA loop calibration test signal to provide easy system verification. Simply move the bottle plug jumper from norm to 20, and the transmitter will output a constant 20 mA. The loop-up LED provides power indication for the 4-20 mA output.