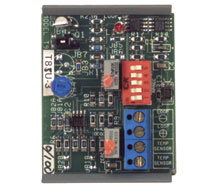 * product family image displayed
T63U-3 | Kele | Temperature Sensors & Transmitters
XMTR 1K OHM NI 4-20MA (0-100)
Manufacturer:
Kele
MPN:
T63U-3
SKU:
T63U-3
Availability:
Usually Ships in Less Than 13 Business Days
product family specifications
Supply Voltage:
10.5-45 VDC
Accuracy:
0.2°F or 0.4% of span
Signal Output:
4-20 mA @ 675Ω, loop-powered
Sensor Element:
1000Ω Nickel RTD
Zero:
-30° to 210'Ñâ (-34.4° to 98.9'ÑÉ)
Minimum Span:
40 'Ñâ(22'ÑÉ)
Usable Range:
-30° to 250'Ñâ (-34.4° to 121.1'ÑÉ)
Operating Temperature:
0° to 140°F (-18° to 60°C)
Operating Humidity:
0 to 90% non0condensing
Dimensions:
1.8"W x 2.25"L x 1"H (4.6 x 5.7 x 2.54 cm)
product family features
Dip switch rangeable,Loop calibration test signal,Low cost,Snap-track mounting,Loop-powered LED indication,Conformal coated
more information & related documents
The Kele T5U and T63U Transmitters are field rangeable, two-wire 4-20 mA RTD transmitters designed for use with Type 5 nickel-iron sensors, the Precon Type 63 sensors, or the JCI TE6300 Series. Each one delivers reilable and accurate performance for a wide variety of applcations. This transmitter can be combined with any Type 63 Precon sensors incorporating the optional in.XW in. weather resistant box for a one package application solution. To adjust the temperature transmitter, set the DIP switches to match the desired range, and use the zero and span pots to fine tune. A high accuracy digital ohmmeter and decade box are required.
XMTR 1K OHM NI 4-20MA (0-100)