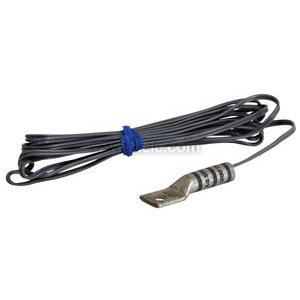 ST-L81-38-XCP25 | Kele | Temperature Sensors & Transmitters
Bullet Temperature Sensor, 100Ω Lug RTD @ 32°F (0°C), 385 Platinum Curve (Gray leads), 3/8" Stud size, 25' (7.6m) Non-Shielded 22AWG Plenum Cable
Manufacturer:
Kele
MPN:
ST-L81-38-XCP25
SKU:
ST-L81-38-XCP25
availability:Usually Ships in Less Than 14 Business Days
add to cart

product specifications
T85U-XR||T81U-XR||T91U-XR||UR||DCP-1.5-W||DCPA-1.2
Cold Water Systems||Hot Water Systems||Retrofit||Hydronic Heating Systems||Chillers
Bullet Temperature Sensor, 100Ω Lug RTD @ 32°F (0°C), 385 Platinum Curve (Gray leads), 3/8" Stud size, 25' (7.6m) Non-Shielded 22AWG Plenum Cable
3/8" Lug||3/8" Lug||Plenum Cable
TEMP SENSOR, BULLET, 100 RTD 385, 3/8" LUG
product family features
Wide selection of thermistor and RTD curves
Ring lug mounting for equipment monitoring
Three stud sizes available
Ultra high accuracy optional
more information & related documents
The Precon ST-L* Series Thermistor and RTD Ring Lug Sensors provide precision equipment temperature sensing for building automation systems. The active sensing element is made of a highly stable, precision thermistor material or platinum RTD. The ring lug design allows the sensor to be mounted to a bolt or stud to monitor equipment temperature. A common use is to monitor motor winding temperature by mounting to the motor housing. It comes in sizes to accommodate 1/4", 5/16" and 3/8" studs or bolts.
LUG STYLE 100 OHM RTD 3/8 MNT 25 FT NONSHLD PLEN