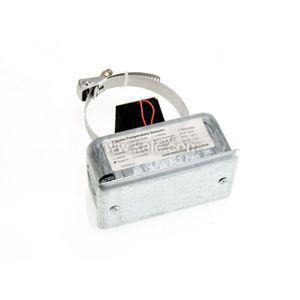 TBDH2 | Veris Industries | Temperature Sensors & Transmitters
Strap-On 8 In 10K T3 Thermistor NIST 2 Pt
Manufacturer:
Veris Industries
MPN:
TBDH2
SKU:
TBDH2
Availability:
Usually Ships in Less Than 12 Business Days
product specifications
Strap-On 8 In 10K T3 Thermistor NIST 2 Pt
STRAP-ON 8 IN 10K T3 THMS NIST 2 PT
more information & related documents
The Veris TB & TRA Series Stainless Steel Sheath Thermistor and RTD Sensors provide remote and strap-on temperature sensing for building automation systems and mechanical equipment room instrumentation. The sensing element is a highly stable thermistor material or platinum RTD. The sensing element is rugged and sealed with a thermally conductive compound in a versatile 2 1/2 in (6.4 cm)- long stainless steel tube. The probe is waterproof, and the sensor is ideal for use or as a strap-on sensor for pipes.
STRAP-ON 8 IN 10K T3 THMS NIST 2 PT