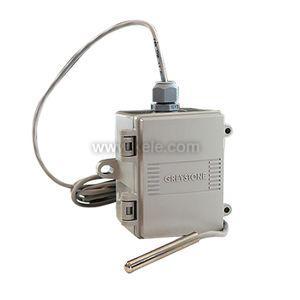 TSRPA12C | Greystone Energy Systems | Temperature Sensors & Transmitters
Remote Probe Bullet Temperature Sensor, ABS, with Hinged and Gasketed Cover, 1000 Ω Platinum, IEC 751, 385 Alpha, thin film, 150 mm (6") Probe
Manufacturer:
Greystone Energy Systems
MPN:
TSRPA12C
SKU:
TSRPA12C
availability:Usually Ships in Less Than 12 Business Days
add to cart

product specifications
APB-28||T85U-XR||T81U-XR||T91U-XR||UR||DCP-1.5-W||DCPA-1.2
Cold Water Systems||Hot Water Systems||Retrofit||Hydronic Heating Systems||Chillers
Remote Probe Bullet Temperature Sensor, ABS, with Hinged and Gasketed Cover, 1000 Ω Platinum, IEC 751, 385 Alpha, thin film, 150 mm (6") Probe
TEMP SENSOR, REMOTE PROBE, 1K RTD 385, 6.00" LENGTH, POLY ENCL
product family features
Single-point, remote probe strap-on temperature sensors

Stainless-steel

PVC insulated

Available in various lengths
more information & related documents
The Greystone TSRP and TSSO Series are single-point, remote probe strap-on temperature sensors that utilize a precision sensor encapsulated in a 6-mm (0.236") OD, 304 series stainless-steel probe. They are available in various lengths. Standard wire length is 1.5 m (5'). All probes are constructed to provide excellent heat transfer, fast response, and are potted to resist moisture penetration.
TEMP SENSOR, REMOTE PROBE, 1K RTD 385, 6.00" LENGTH, POLY ENCL